A home's decoration does not end inside. dining tables are an extension of our style and need to be given the same attention. Whether big or small, in homes or apartments, the exteriors of a home dining table are special. They are a place of relaxation for the homeowners and the gathering of friends and family.
When it comes to dining tables, not all table choices are equally suitable for outdoor use. Most table furniture that is manufactured inside the house, should stay indoors. It is not a matter of quality or style, but of endurance. Patio dining tables should meet certain standards and criteria, as well as be made of materials that can stand all the different weather conditions and temperature changes.
Which materials are the most suitable for table use? The best option when choosing a table or sofa to be used outside is aluminium. There are several reasons why. As a material, it is lightweight and malleable, hence it allows for it to be used in a vast number of products. By nature, it is corrosion resistant and environmentally friendly as it is non-toxic and recyclable. Its ability to resist corrosion makes it ideal for outdoors as it can withstand not only rain and humidity but also the wetness from swimming pools and the sea.
Another great option is a ceramic table. A synthetic material, ceramic table can be used on flooring, kitchens, and furniture. It is made from clay mixed with other inorganic materials, dried and given the appearance of marble. Its pores are completely closed, and therefore have zero to minimal absorption. As a result, the ceramic table has a long lifespan and is scratch and heat resistant, ideal for everyday use.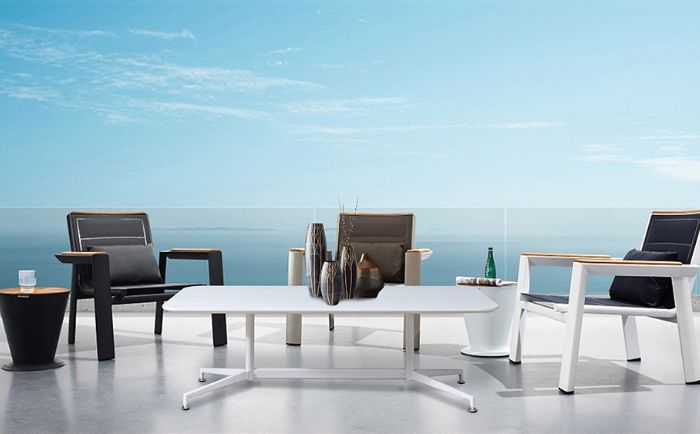 Here at BK Ciandre, we are proud to have a table that utilizes both of these materials and can be used not only indoors but also in gardens. Its exclusively designed elegant structure and color variations give it the flexibility to be paired with many styles.
The table base is made of high-pressure die-cast aluminum whereas the central rod in tempered aluminum ensures maximum reliability with minimum thickness profiles. As a result, it can be made in extraordinarily long measurements, up to 9m in length and 1.20m wide, without risking its stability. With a choice for everyone, it offers over 10 powder painting aluminum colours to match or contrast the ceramic top. For outdoor use, it needs little to no maintenance, thus allowing you to focus on the important aspects of your life.
Likewise, the ceramic table top has a number of color choices to see, all inspired by nature, with options ranging from white marble, oak look or even blue stone look for those who dare add color to their gardens! Since it is a material that is used both on flooring and furniture, it needs little to no maintenance and is easy to clean.
The Bk Ciandre dining table series gives you the ability to choose everything about your table.
Makes you clear on How to Choose a Dining Table Set
Where it will be used, what size, and its color. Its lightweight base also gives you the choice of easily moving it from your kitchen to the patio and vice versa, always according to your needs. This is why we feel that the dining table is an expression of Bk Ciandre's commitment to aesthetic originality and top quality through research and technology.