kitchen cabinet designing and manufacturing has a long history, dating back to the 1910s when the first modern kitchen cabinets as we know them, appeared. Since then, even though the basics have remained the same, there have been a vast number of kitchen cabinet designs, colours, styles, and shapes that are now available for each person to choose from in order to create their ideal style. As technology progressed in the materials used for home building and furniture, so it has for kitchen cabinets, and it will continue to evolve.
The vast materials used for kitchen cabinet manufacturing are also available in various colours and textures, hence the combination of them can create unlimited options for designs. When it comes to choosing your kitchen cabinet there is always an important factor to take into consideration. Quality.
Not all kitchen cabinet materials are created the same, hence choosing the right one for your home that will be able to last usage is important. We at BK Ciandre, with over 15 years of experience in the furniture industry, take quality very seriously and are present at all stages of designing and production.
Our factory and showroom are based in Italy and use state-of-the-art technology and machinery at all stages creating the final product that meets the highest standards of quality. Additionally, we cooperate with the best material providers in order to deliver to you the optimal kitchen cabinet both design as well as material wise. Here are some of our favourite quality materials: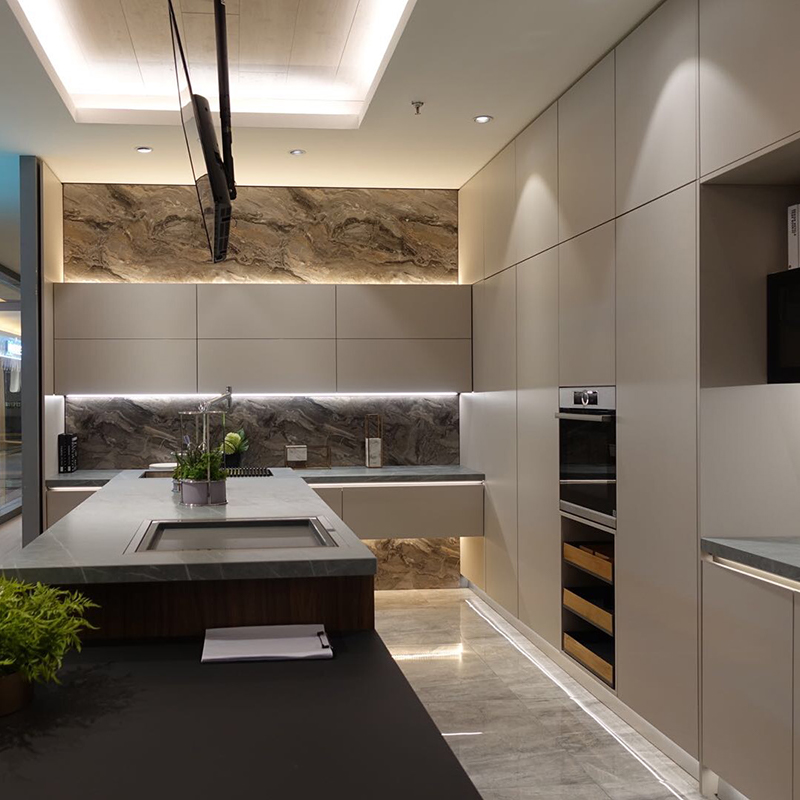 Hardware materials:
Imported from Blum Austria, GRASS, KESSEBOHMER, Peka, and CLEAF the world's leading manufacturer of fittings for high-quality kitchens and furniture. With exquisite beauty, durability, and smooth surfaces, they are rust resistant and reinforce our kitchen cabinets' strength and endurance.
Ceramic tops
Our ceramic kitchen cabinets ceramic is food safe and resistant to chemicals, fire, scratches, and stains. It can come in direct contact with oil, wine, and hot beverages and is easy to clean without being afflicted or damaged.
Aluminium
Aluminium is a versatile material used both in furniture, home manufacturing and kitchens cabinet. It is found in a huge variety of products including cans, foils, kitchen utensils, window frames, beer kegs and aeroplane parts. As a material, it is lightweight, has corrosion resistance by nature and is nontoxic and recyclable.
Laminate
Our carefully selected laminates are available in wood look, marble, granite looks or as solid colours. They are not only versatile in their usage but have many benefits that make them suitable for use in furniture and kitchen cabinet manufacturing. To start with, they are machine made ensuring uniformity of colour and texture. Furthermore, they are greatly resistant in:
Scratching
Chemicals
Scour
UV
They are also antibacterial and easy to clean, making them suitable for home use.
Our top-quality end result is not only ensured by our materials. When visiting our store, a team of experts listen to your ideas and needs, then proceed to ensure that the design of your kitchen and kitchen cabinets is in the correct size according to your plans as well as that it is not only aesthetically perfect but practical as well. After confirming it all, a 3D design of your kitchen is provided so you can see what the final product looks like. Our skilled personnel then take over and oversees that your order is produced according to our own personal standards.
Quality is a process that we, at BK Ciandre, are happy to complete from start to finish.