Your dining room table is one of the essential pieces of furniture within your house. The center of attention, considering it is on the main display, this piece of furniture is where the entire family gathers after a long day to have dinner and share stories.
Hence, choosing the right dining table surface is of utmost importance. Wondering which is the perfect dining table surface for your home? Then hop on below to find out.
Ceramic Surfaces – The Elegant Dining Room Surfaces You Deserve
When it comes to dining table tops, there is no other that can compare to a beautiful ceramic surface. While you may feel like wooden tables are the top choices for dining table surfaces, you cannot be more wrong.
Ceramic tops are one most purchased dining table surfaces, and there are several reasons why you should opt for them. Here are a few:
1. Aesthetically Pleasing
People look for furniture pieces that aren't just budget-friendly but look posh on display too. That is precisely what a ceramic top dining table will provide you, an elegant feel without emptying your pocket.
Besides this, the vibrancy and massive designs a ceramic top come with make it the number one choice for people. The ceramic tops can easily duplicate wooden, marble, or any other natural texture and incorporate it beautifully with its natural outlook.
So, whether it's the natural beauty of marble veins on a ceramic top or some grainy wooden outlook you are looking for, a ceramic top display can provide you with all.
2. Easier Maintenance
Compared to other surface materials, ceramics is far easier to maintain. Why so?
While wooden or glass surfaces tend to get easily stained by food, wine, and other substances, this won't be the case with ceramics. The ceramics material is manufactured so that it doesn't hold onto stains; hence, you can easily wipe them away, ultimately leaving no mark behind. So, if those sticky remains of food on your table disgust you, this tabletop might be your perfect choice.
3. Durable
Another main reason people are opting for ceramic tops so massively is because of how promising it is. A ceramic table top will be highly durable once you purchase it.
Ceramics are heat, shock, and scratch resistant; hence, if you are a clumsy person, you won't have to worry about dropping or accidentally knocking down things on this surface top or causing any scratches. Moreover, hot plates or bowls can easily be placed on your ceramic table without worrying about making a crack.
4. Won't Cause Discoloration
One of the main reasons people are hesitant to buy artificial stone surfaces is how easily they can discolor with time. Well, this won't be the scene when it comes to ceramics.
UV rays or dramatic temperature changes don't impact ceramic compared to other artificial stones. Moreover, the vitreous enamel layer that they are manufactured with keeps them good as new for a long time. So, you won't have to worry about replacing your tabletop within a year or two.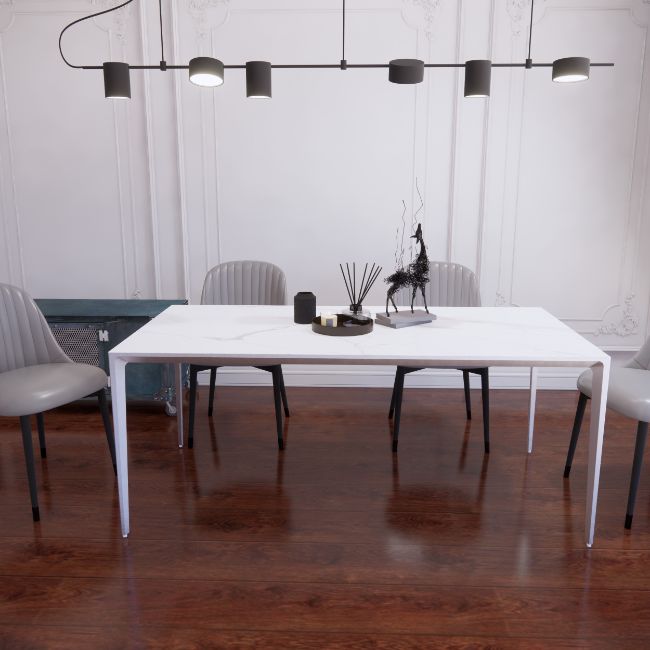 While several companies manufacture some excellent ceramic top tables, BK Ciandre takes the game to another level.
BK Ciandre has been standing strong for over 15 years, manufacturing the highest quality of ceramic furniture that its consumers want. With over 30000 units of monthly capacity production, our wide range in ceramics has won the hearts of many.
However, we understand people usually opt for minimalistic furniture designs when shopping for their homes. If that is the case for you, our Matan Round Table will be perfect.
So, if you are looking for a longer piece of ceramic top, we might have some fantastic range for it too. So, why not check those out?
Conclusion
People usually believe that finding a tabletop won't be hard. However, once they step out to buy this particular piece of furniture for their home, they find out just how peculiar they have to be about certain aspects!
We hope this article was sufficient enough to help you understand why ceramic tabletop might be the best dining table surface compared to all and why you should buy it.