Are you looking for a new tabletop for your dining table? Then you should know that it is hard to figure out where to start with various shapes, sizes, and materials. You need a budget-friendly, durable table that also fits perfectly with the aesthetic of your home. For this, you need to be mindful of different variables.
That's why we have gathered all the information you might need to find the best and ideal tabletop for your home.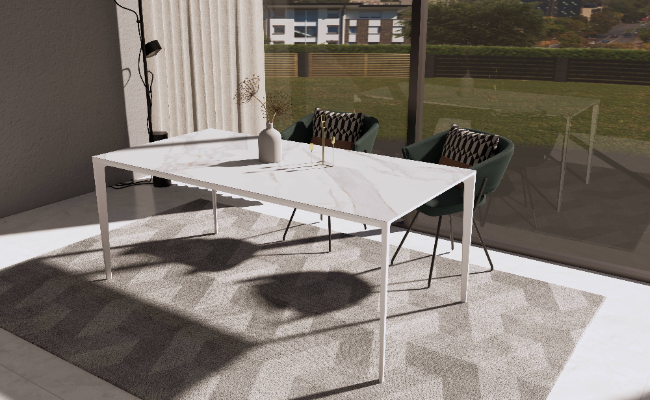 You need to consider the following before investing in a tabletop.
1. The Shape of the Table Top:
When you think of a tabletop, you will find typical shapes are square, rectangle, or circle. But in reality, there are so many other fun and fantastic shapes that you can see in the market.
Rectangle and square table tops are classic, and you can never go wrong with them. They look elegant and give a sleek look to your dining room. These two shapes are also more comfortable options than the other designs and shapes.
Circular or oval table tops are perfect if you have a small place and want to add a dining table. They will give you more space to move around. Furthermore, there are also a vast variety of colours and designs that you can find in this shape.
If you want something different from the standard designs, you have D-shaped and irregular shape table tops. However, these are not very functional and are mainly used for décor.
2. Materials of Table Top:
Next thing to choose while getting yourself a new table top is the material of the tabletop. Following are some of the most useful, durable options.
The first thing we have is the wooden table top. The wooden table tops are also of different types. They are very durable and scratch-free options. Furthermore, wooden table tops are also easy to maintain.
Common wood used for making these table tops is oak, ash, beech, teak, mango wood, and many others. All of these have different textures and colours. So, you can choose whatever goes with the theme of your home.
If you want to add a modern touch to your dining room, opt for ceramic table tops. This is one of the most popular choices nowadays. The ceramic top tables are resistant to scathes, spills, and heat. They are also very budget-friendly and can find a lot of styles in this kind of table tops.
Glass is another classic tabletop that is commonly found in the market. However, the drawback of this kind is that it needs a lot of maintenance. They are prone to scratches and can ship quickly. Marble is also a common material that is used for table tops.
3. Sizes of Table Tops:
The last thing that will help you find the best tabletop for your home is the size. You must get the proper size for the tabletop according to the room you will keep. For the perfect measurement, you need 36 inches from the edge of the table to the walls or the furniture. This will ensure you have enough space to pull out the chairs and move comfortably around them.
The table size and shape will also affect the number of chairs. So, check all these things before investing in a tabletop.
Conclusion:
Finding the perfect tabletop can be pretty challenging. There is so much variety in the market that it becomes overwhelming. Therefore, you must do your proper research beforehand, so you don't get confused while purchasing the tabletops.