Of all the rooms in a house, the dining room holds a special place. It is the place where you can invite your family and friends to eat, whether it's for a casual dinner or a formal one, for birthdays, celebrations, or Holidays. When creating your home's dining room there is a table that will help you elevate its style whilst still being practical and long-lasting. The Round marble and wood table. There are four traditional shapes when it comes to dining tables. Square, rectangular, oval, and round. Of all the three, the round has some unique advantages that set it apart from the rest and make it one of the best options, hence our admiration for the Round marble wood table.
Practically, in contrast to the other shapes, the round offers you and your guests a more personal mealtime by providing better visibility with one another, giving everyone the chance to speak and interact. Additionally, a round table takes less space than a square one, or a long rectangular one, thus making it an ideal choice for many rooms that lack length. Aesthetically, the round table is a stylish choice, an organic approach to your interior that is easy to fit within various interior design styles, like minimalist, contemporary, traditional, even coastal, and more.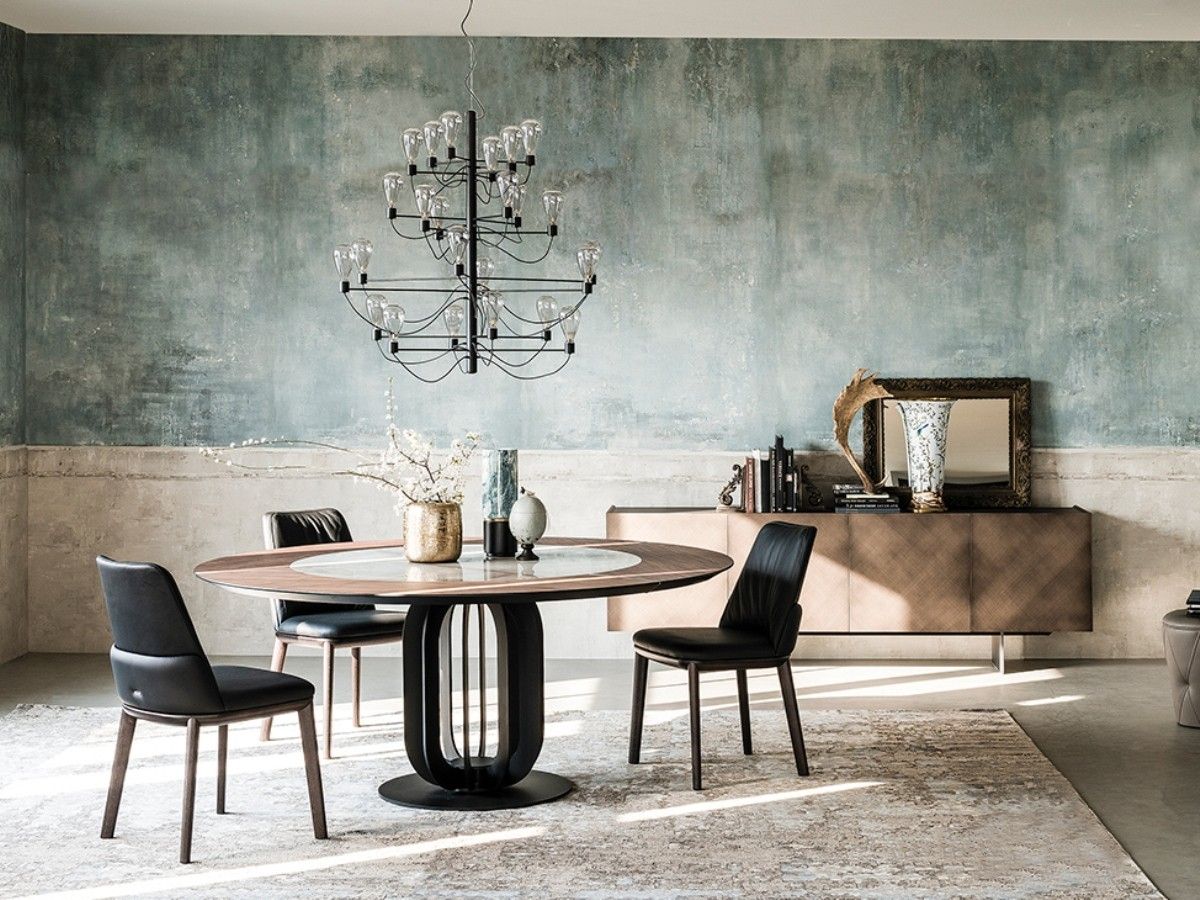 What sets our Round table apart from the ordinary ones, is the lazy susan in the center, which offers a different dining experience even at one's home, gives them something to talk about, as well as being a practical choice for you and your guests. Made of white marble, the rotating tray can withstand heat and moisture from the food, does not absorb, and is easy to maintain and clean, making it perfect for everyday use. Moreover, marble as a natural material is now one of the most trending options used in interior design, bringing the sense of the outdoors, indoors.
The Round table's advantages do not stop there. Pairing the marble with wood in warm walnut color, creates a juxtaposition between the two elements, thus making the rotating tray stand out more. The elegant wood, but with a slim top for a minimalistic aesthetic, gives a sense of authenticity and sustainability. Finally, to complete the table's top-quality elements is the aluminum base, expertly crafted, and a great option of material, as it does not rust, is environmentally friendly, and can withstand the test of time. It is by nature water resistant and non-toxic, making it suitable even for homes with pets.
For us at BK Ciandre manufacturers, the Round table is more than just a piece of furniture. It is a representation of our commitment to excellence, and attention to detail. With more than 15 years of experience in furniture manufacturing, and an unprecedented specialization in aluminum, ceramic, and wood, we offer you the best furniture choices available, for home and recreational use. Our Italy-based showroom and factory of more than 25,000 square meters, utilizes the latest, state-of-the-art technology and machinery in creating furniture with precision and perfect results each time.
The Round table is a great choice for your home, and a creative, artful piece that will brighten any space it is placed in. Moreover, it is high-rated, top-quality furniture that will last for a long time, as it is made from materials that require little to no maintenance and are easy to preserve. Its rotating mechanism and shape, make it ideal for larger groups of families or friends by making it easier to serve food while maintaining contact with each other. All these elements are what truly make the Round, a unique dining table.