In recent years, ceramic tables have become very popular due to the aesthetic they add to the home and hotels, and all places in general, whether in the kitchen or dining room. What is ceramic? What are the advantages of ceramic tables?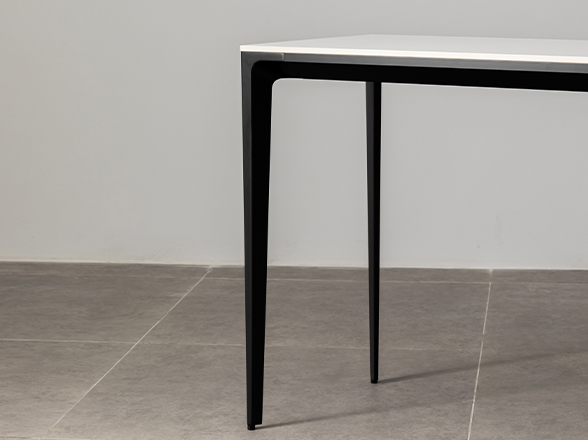 What Is Ceramic?
Ceramics is a man-made synthetic material made up of clay mixed with other inorganic materials to give marble a beautiful appearance. It is dried and polished to form a completely sealed finish surface.
-Extraordinary resistance
Impact, Abrasion, and Scratch Resistant, The perfect ceramic table for everyday and family use. It provides great comfort and reassurance to be able to enjoy a piece of furniture that is made to last.
-Heat and cold resistance
tablecloths and coasters are unnecessary on a porcelain table. You can place the dishes directly on the counter without having to worry about any heat damage.
Insensitivity to stains: The ceramic table is very easy to maintain.
-Ceramic tables are easy to maintain
The ceramic table does not require restricted maintenance. Wine, jam, or grease stains are cleaned in no time (with soap, water, and a sponge or brush).
Also, household acids do not leave any traces. Ceramic is not only an easy-to-clean material, it is also hygienic. Since it is taste and odor neutral, you can place the food directly on your ceramic table.
-Lots of customization options
Ceramics come in a wide range of colors and sizes. It can be combined with all interior styles, in the dining room or kitchen, and meets the needs of every family.
There are some ceramic tables for example that can be used for all kinds of purposes and can accommodate up to 8 guests. It is also possible to move chairs with armrests under the table, which means you can have a large selection of chairs or even armchairs!
Ceramic Table: Why It Is The Best Furnishing Item
Ceramic tables are a great option for your furnishing needs. They are durable and easy to care for, making them ideal for busy families or those who entertain often. Plus, they come in a variety of styles and colors to match any decor.
Here are four reasons why ceramic tables are the best choice for your home:
1. Ceramic tables are extremely durable. They can withstand high temperatures and heavy use, making them ideal for busy families or those who entertain often.
2. Ceramic tables are easy to care for. They can be wiped clean with a damp cloth, making them ideal for spills and messy kids.
3. Ceramic tables come in a variety of styles and colors to match any decor. Whether you prefer a traditional look or something more modern, you're sure to find a ceramic table that fits your taste.
4. Ceramic tables are relatively affordable, making them a great value for your money.
BK Ciandre Ceramic Tables Are The Best For Your Furnishing
BK Ciandre follow closely the popular Italian minimalist home style and integrates its own characteristics to create a Ceramic table product series belonging to Bk Ciandre-including the ceramic dining table Long Island series, Sanqi series, Manta series; toban series of ceramic tea table/coffee table.
In BK Ciandre we design all the shapes and types you will need for your furniture, including:
-Ceramic Dining Table
-Ceramic Living Room
-Ceramic Outdoor Table
-Ceramic Restaurant Table
-Ceramic Extendable Table
For the tabletop material usually, we use Ceramic, glass, and wood, and for the table base used to be aluminum, wood, glass, steel, and so on, but what is the best material for a dining room from aesthetically, durability, practicality and suitable to any occasion.
It could be simplicity, clean lines, and also could be luxury, functionality, or complicated design. you could design how your table looks like, customize any shape, pattern, size, or texture as you want, Based on that we are using the Bottero machine, Germany system for the tabletop, and for the table base we are using the imported CNC 5axis processing machine, we consider technology and machines to be essential and they can be found throughout our organization: starting from the product, in which it is required in order to achieve the utmost quality and perfection, through to the production systems, characterized by the use of glass and aluminum, a sign of the maximum flexibility in production.
All of these products are subject to testing and auditing. Our research and development department, consisting of 10 engineers, works to make the product in perfect condition before it is delivered to any customer.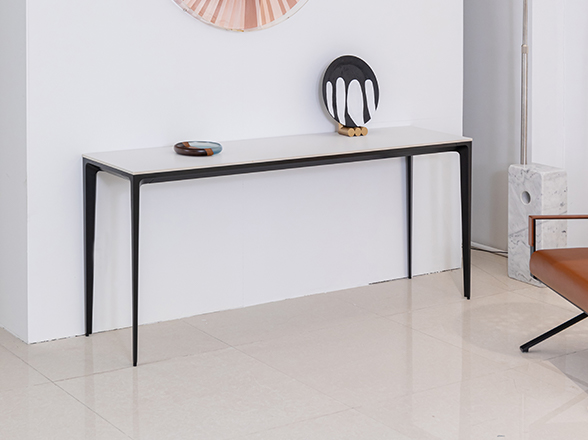 Very Important:
If you're looking for a high-quality ceramic marble table supplier, look no further than our company. We source only the finest materials to create our tables, which are then expertly crafted by skilled artisans. Our tables are available in a variety of styles and sizes to suit any need, and we're confident that you'll find the perfect one for your home or business. As a responsible company and believing in the need to protect the environment and our planet in general, especially with the environmental deterioration that the world has witnessed in recent years due to carbon emissions, we would like to confirm that we use conservative, environmentally friendly and completely non-polluting materials when manufacturing our products.
We encourage all our friends to adopt such products in order to protect our environmental future.